November 7, 2019
What Does Your Uniform Say About You?
When working with the public, making a first impression is highly important. Arriving at the job-site with the proper attire to work, looking clean and professional gains the customers trust. No matter the years of experience or the skill-set you've acquired, if you don't dress appropriate for the job-site, you will not be successful.
Opening a business and having trouble picking the attire your team will be sporting to the job-site? Not sure what to wear to work? Use this helpful guide to learn what your uniform will say to your customers and anyone who sees you!
October 23, 2019
Jet Power II
Duke's partners with cities to ensure sewer pipes not only stay free of roots, but also grease. Effective for grease removal in wet wells, manholes, lift stations and sewer lines, Jet Power II® is a grease liquefier that is non-corrosive, biodegradable, non-acidic and non-caustic and will not damage sewage treatment plants, pump stations or sewer jet trucks. Containing powerful surfactants that leave the sewer virtually grease free after just one pass, Jet Power II® is jet-sprayed upstream from the affected pipe. Watch this brief video to learn more.
October 17, 2019
Introducing Neuron
THE PERFECT DROP-IN SOLUTION
Tankless Water Heaters
When space and cost are important deciding factors, you can count on our Neuron Series units for superior performance and reliability. Ideal for commercial applications, our tankless water heaters provide 94% thermal efficiency and are constructed for maximum durability – even in the most demanding commercial applications.
Key Features
Compact Drop-In Replacement – Neuron Series units are over 8" slimmer than a typical tank and feature similarly located water in and out for easy hook up without the need to re-pipe. Replace typical tank units in a flash.

Built-In Redundancy – All Neuron Series models come with two separate heat engines, independently controlled thus eliminating additional expense and space for a redundant backup water heater.

Direct Cell-LTE Connectivity – Remotely access and monitor Neuron Series units via LTE cell connectivity feature. No need to connect to your building's Wi-Fi.

Mobile App, telliCare® – Use Intellihot's mobile app and start monitoring your unit. Check water inlet/outlet temperatures, flow rates, flue gas temperatures and life of key parts, available on your mobile device of choice.

Low Gas Pressure Operation – System operates on low gas pressure, down to 2.5" WC, without reduction of capacity.

Mitigate Legionella Risk – With no storage tanks there's less risk for Legionella growth. Eliminate the need for mixing valves and their associated unreliability and costs.
Scale Free Heat Exchanger
Our heat exchanger floats freely to accommodate all thermal shocks and stresses. Made of 316L stainless steel it offers superior corrosion and erosion resistance. It has a patented self-descaling design that prevents lime scale buildup. It has no welds on the water side to ensure robustness to chlorides. Our heat exchangers create energy reduction of up to 40%+ when compared to tank-type water heaters and 15%+ over other non-condensing water heaters.
October 16, 2019
CHOOSING Between TANK & TANKLESS WATER HEATERS
Tank water heaters are the most common, with a reserve of hot water that is maintained 24 hours a day.
Tankless or on-demand water heaters produce hot water as it is needed without the use of a storage tank.

Conventional storage tank water heaters keep water heated constantly which can provide hot water for heavy demands, but can also waste energy. When selecting a tank size, consider the peak hour water demand. If you only use one shower in a given hour, your tank will probably be able to handle the load. However, if there are times where multiple fixtures and appliances are running simultaneously for extended periods, an undersized tank may not contain enough hot water to support your activities and will take some time to heat back up again. Tank heaters work best in a situation where a household might use multiple showers at the same time every morning. They run on natural gas, propane, oil or electric. Gas and oil tank water heaters use chimney, power or direct venting and electric units do not need to be vented.

In tankless systems, water enters the heater and heats up instantly. As long as max per-minute flow rate is not exceeded there is no end to your supply of hot water. Since the water is heated on demand, the size is important and you will need to purchase a unit that can handle your water needs at any given time. They are sized based on maximum usage per minute. For example if you run two showers simultaneously in the morning, you will need to account for the combined water usage. Your geographical location can also impact tankless sizing because the temperature of your supply water can affect how much water can be heated at any given time. Tankless heaters work best in a household where multiple showers are taken one right after the other. They are available in natural gas, propane or electric. Gas tankless water heaters use power or direct venting and electric units do not need to be vented.
Call Pipetechs at 919-293-1221 to find out more about which option is best for you.
October 15, 2019
EZ SMOKE Leak Detection System
Pipetechs specializes in sewer leak detection and has the latest technology to get the job done right. With EZsmoke visibile vapor technology we now have one tool that offers three ways to locate leaks. EZsmoke locates leaks behind walls, under cabinets and in hard to reach places of all kinds. EZsmoke's patented non-toxic visible vapor - or smoke - technology offers one of the simplest, most reliable methods for tracking down and locating leaks ever created. With EZsmoke you find leaks with smoke, dye or citrus scent.
Wireless remote control makes it easier than ever to operate. Whether in a home, business, multi-story commercial building, restaurant, school or shopping mall, EZsmoke makes finding cuts, cracks, fractures, punctures, porosity or unsealed fitting leaks fast, safe and easy. Call us at 919-293-1221 to find out more about our new EZ Smoke Technology.
October 14, 2019
Expansion tanks
Expansion tanks are critical components to your Plumbing and Hydronic Heating systems because they prevent your pumps, pipes and other components from bursting.
Expansion tanks are needed by hydronic heating systems and most plumbing systems to contain the water as it expands when it starts to heat up.

When the system is first filled with cold water from your supply line, the pre-charge pressure of the expansion tank is equal to the supply line fill pressure, this pressure keeps the diaphragm flush against the tank. However, as the temperature of the water in the system increases it expands and the expansion tank diaphragm flexes against the air cushion to absorb the added pressure, the Pre-Charge tank pressue is usually 12 DPI for Hydronic Heating and 44DPI for a plumbing system. Call us at 919-293-1221 to find out more about expansion tanks.
October 13, 2019
Backflow Prevention
Backflow prevention protects potable water systems from potential hazards. There are over 10,000 reported cases of backflow contamination each year. Backflow devices are required by law and must be installed in accordance with plumbing or building codes. There are many different types of backflow preventers used in various applications.
During normal operation, the pressure between the two check valves, referred to as the zone of reduced pressure, is maintained at a lower pressure than the supply pressure. If either check valve should leak, the relief valve is designed to open and discharge water to the outside. An RPZ will periodically discharge small amounts of water due to fluctuation in line pressure up or downstream of the assembly. For this reason, the RPZ should be installed in areas that are not subject to water damage and allow adequate drainage.
Reduced Pressure Zone Assemblies, or RPZs for short, are the most complex, but safest type of backflow preventer available today. Installed between the city's water supply and the plumbing system of large residential and commercial structures, RPZs protect the water supply from any backflow contamination's. They achieve this through a variety of safety measures. Call us at 919-293-1221 to find out more about your backflow prevention.
Flo by MOEN
As a certified Green Plumber, Pipetechs recommends less about trying to save water rehab. This new device by MOEN measures the water flow each day to save you water, and it's better for the environment. Call us now to find out more about Flo by MOEN.
When Ferguson encountered extensive plumbing-system backups at one of its branches, it decided to turn to one of the product lines it offers customers — Saniflo grinder pumps — as a practical and cost-effective solution.
Ferguson's Raleigh, North Carolina branch had been experiencing a gradual worsening of the backup problem. As a result, Branch Manager Nathan Smith called certified plumber Dale Nichols of Pipetechs Plumbing Technologies, which offers rapid-response plumbing service to Raleigh and the surrounding areas.
"There was insufficient grade in the piping system, likely due to a design flaw," Nichols explains. "It may very well have worked fine for years after the original construction, but during that time the system was acting as a grease trap that finally backed up and began causing problems."
After assessing the situation, Nichols, a 30-year plumbing industry veteran, presented two solutions to Smith. The first was financially unrealistic in that it would have involved tearing up the building's entire foundation to install a proper piping slope across 200 ft. The costs would have been astronomical.
The second option was to install a duplex grinder plumbing system at a far lower cost that would grind and pump waste to the drain line. When presented with both options, Smith quickly chose the latter. "Installing a duplex grinder pump would save us roughly 90% on installation costs," Smith remarks. "Plus, we already had a reliable line of pumps that we had been carrying for more than 12 years."
Smith was referring to Saniflo's plumbing systems, which can macerate, grind and/or pump both wastewater and solids from multiple fixtures to a drain line.
Nichols also was very familiar with Saniflo, having installed the company's products for 20 years in various applications. "I like the ability to put a bathroom anywhere, especially in large commercial applications," he says. "In Ferguson's case, that ability was crucial. No one was going to want to make the sacrifices in time, money and effort necessary to rip up the foundation."
Grinding away the problem
Nichols ended up recommending the Sanicubic 2 duplex grinder system. Designed for heavy-duty commercial applications, the unit is equipped with two grinder pumps for handling multiple waste fixtures. This, as well as its ability to effectively grind tightly woven sanitary articles, such as feminine products, baby wipes and dental floss, were the deciding factors to go with the product.
"I use this product in my own shop because its heavy-duty capabilities offer peace of mind that it won't clog," Nichols explains. "The simple controls, connections and accessibility make it a desirable product for me to install and my customers to use."
The two grinder pumps also are designed to operate alternately so neither is more heavily used over time than the other. However, if either ceases to operate, the other will run full-time until servicing can eliminate the problem, Nichols adds.
The pumps also are "smart" in that both do not operate simultaneously unless the rate of incoming water is high enough, in which case one signals the other to turn on. When both pumps are in operation, the discharge rate increases roughly 80%.
Nichols installed the pump to handle wastewater from two bathrooms and a kitchen sink at the showroom. The pump was placed inside a specially made 3-ft. pit in the floor near the bathroom applications, which Nichols covered with an aluminum hatch for easy access. From there, it pumps wastewater up and across a horizontal distance of roughly 40 ft. to the drain line. (The unit can pump a maximum of 36 ft. vertically and/or 328 ft. horizontally.) Although the grinder was installed below the floor in this application, it also can be installed above the floor to avoid drilling altogether.
A worthwhile decision
The installation progressed without major complications, with Nichols taking extra care to make the project look professional.
"Like on all my jobs, I wanted the installation to look like it 'belonged' there so I did my due diligence in the planning and execution stages," he says. "From creating the pit, to running the lines, to connecting the pump, everything was completed with great care and neatness."
Even with this attention to detail, the entire installation took only two days. This was another important advantage for Smith and the Ferguson branch. "Having to gut the foundation would have taken up to two weeks and impacted our business," he notes. "Choosing a duplex grinding system therefore saved Ferguson not only money, but also time."
The duplex grinding system has given Smith no reason to complain. "It has worked phenomenally and done exactly what it's supposed to do," he says. Last year, Smith was able to easily perform some routine maintenance thanks to the product's accessibility and simple assembly.
"This type of plumbing is by far the most effective option when a customer desires a bathroom in an unconventional location — from an attic, to a bathroom, to an outdoor area," Smith states. "As a distributor, I have found the market has recognized this technology as a viable solution in recent years and it continues to grow more popular with time."
With the duplex grinder, Ferguson was able to bypass what would have otherwise become a foundational "gutting" of the entire facility. "Without this solution, fixing this serious problem was, for all intents and purposes, impossible," he says.
PIPETECHS BRINGS THE S.U.N. EQUINOX SYSTEM TO THE GREENSBORO COLISEUM
If you live in North Carolina you have likely visited the Greensboro Coliseum. Built in 1959 this monumental building has hosted iconic events like presidential debates, sports games, concerts, and live audience television shows. Renovations and upgrades throughout the years have taken place in order to improve building amenities, save on operational costs, and create an overall better experience for everyone involved with the center. The latest of these developments has come from the innovators at Pipetechs Plumbing Technologies, a residential and commercial contracting company that was founded in 1993 and based out of Raleigh, North Carolina. With the installation of a state-of-the-art S.U.N. Equinox water heating system Pipetechs is hoping to save Greensboro Coliseum up to 60% in their natural gas consumption.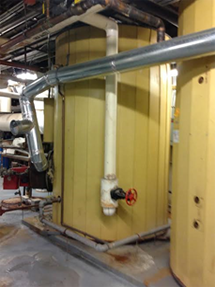 This relatively new technology is a stand-alone, highly efficient gas-powered water heating system with solar-power capabilities. Although the Greensboro Coliseum has not chosen to install solar panels as of yet, they will benefit from even more energy savings if they decide to do so in the future.
S.U.N. Equinox systems offer an environmentally friendly form of heat for kitchen and bathroom needs, pools, and even climate control for both buildings and residential properties. Other plumbing contractors have taken on large commercial jobs of this sort and used equipment that was extremely costly and practically destined to fail. S.U.N. Equinox systems provide years of safe and reliable use without the complications that come from lower quality units. Pipetechs is proud to have been able to pass on this fantastic product to the Greensboro Coliseum and is looking to do so in restaurants, hotels, complexes, and homes throughout North Carolina.
Solar thermal installations are truly the wave of the future. They use a renewable energy source that is perpetually shinning down on us in order to generate a cleaner and more efficient form of heat. In fact S.U.N Equinox water heating systems come equipped with a special setting that protects home and commercial property owners against the growth of harmful bacteria that could result in the contraction of a powerful form of pneumonia called Legionnaires' disease. This virus is known to thrive in standing water, such as inside the tank of your unit, that is below 140° Fahrenheit, which is why so many systems come with a scald proof option.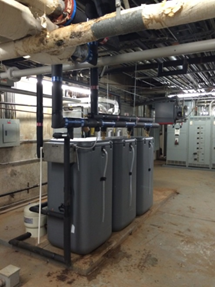 With the installation of a state-of-the-art S.U.N. Equinox water heating system Pipetechs is hoping to save Greensboro Coliseum up to 60% in their natural gas consumption.
Aside from the health and operational benefits that come from these expertly designed units, S.U.N. Equinox water heating systems will also help to drastically lower your monthly utility costs. Businesses and residences throughout North Carolina that do not utilize this type of technology need to take into consideration just how advantageous it can be. The knowledgeable plumbing professionals at Pipetechs are standing by to go over your options with you, answer any questions you may have, and tailor an installation to your specific needs. Don't wait any longer, upgrade to a S.U.N. Equinox water heating system today.

For innovative plumbing solutions, call Pipetechs at 919-293-1221. Our specialist can help you with all your needs.